To arrive
The ZAD is 20m away from Saint-Nazaire and 30m away from Nantes on the south shore of the Loire. It is situated in the town of Saint-Viaud. The exact address is :
Lieu dit La Péhinière 44320 Saint Viaud
To come by car/carshare
Carshare : A Facebook group is active in order to facilitate carsharing (we are currently working on a better solution without Facebook) : facebook.com/groups/stopcarnetcovoit ,
please publish a post if you come to the ZAD by car !
If you leave from Nantes or go by Nantes by car, we invite you to come by Pirmil in order to see if some people are waiting to go to the Carnet.
Hitchiking from Nantes : if you leave from Nantes, we advise you to place yourself at Pirmil on the way to the Carnet. Pirmil is easily reachable by public transports with trams 2 and 3.
Control points from the "gendarmerie" : Since the beginning of the ZAD, the gendarmes (similar to the policemen in UK) are present around and proceed to identity checks and sometimes search vehicles (they need then to have a requisition from the procureur and you are allowed ask to see it) and salivary tests or alcohol tests.
Since the beginning of october, control points are less frequent. There are only a few identity checks and we didn't hear about vehicle searching since october. If your vehicle has been searched near the ZAD, contact legal_carnet[at]riseup.net with the time and place where it happened.
Whatever, don't hesitate to come. Fines are rare and if you get one, contact legal_carnet[at]riseup.net if you want to get help with a collective defense.
We update the control points regularly. If you want to know control points before coming, you can send a message with Signal application to the following number : +1 813-437-5607. If you are controlled, please let us know by sending a message to the same number with the time and place of the control. Thanks !
If you don't have any smartphones or can't use Signal, you can send us a mail to zadducarnet[at]riseup.net, we'll try to answer as fast as possible but we'll be less reactive…
We advise to hide your license plates in order to avoid it being recorded if you park near the Zad.
Come by bike
The Zad is on the Loire à vélo bikeway 30m away from Nantes. It is easy to come by bike. Plan for a 2h30-3h trip from Nantes.
Two options :
bike through the "Loire à Vélo" North of Loire following the Couëron direction (yellow arrows with the inscription "parcours provisoire") then take the free boat to Le Pellerin and head South.
bike through the "Loire à Vélo" South of Loire through the island of Nantes (follow the arrows of the Eurovélo)
Link to the map of the "Loire à Vélo"
Bike convoys will be regularly organized since Nantes by the Collectif Nantais de Défense de l'Estuaire (a local group supporting us) !
Come by public transports
Nearest trainstations
Saint-Nazaire (20m) and Nantes (30m) with possibility to combine with regional buses, bike or hitchiking.
Regional buses
Bus 301 Nantes-Saint-Père Paimboeuf. Be careful, there are only two buses by day (and only one return) and only on weekdays excluding holidays. Here is the map of the bus route and see the picture of the time sheet.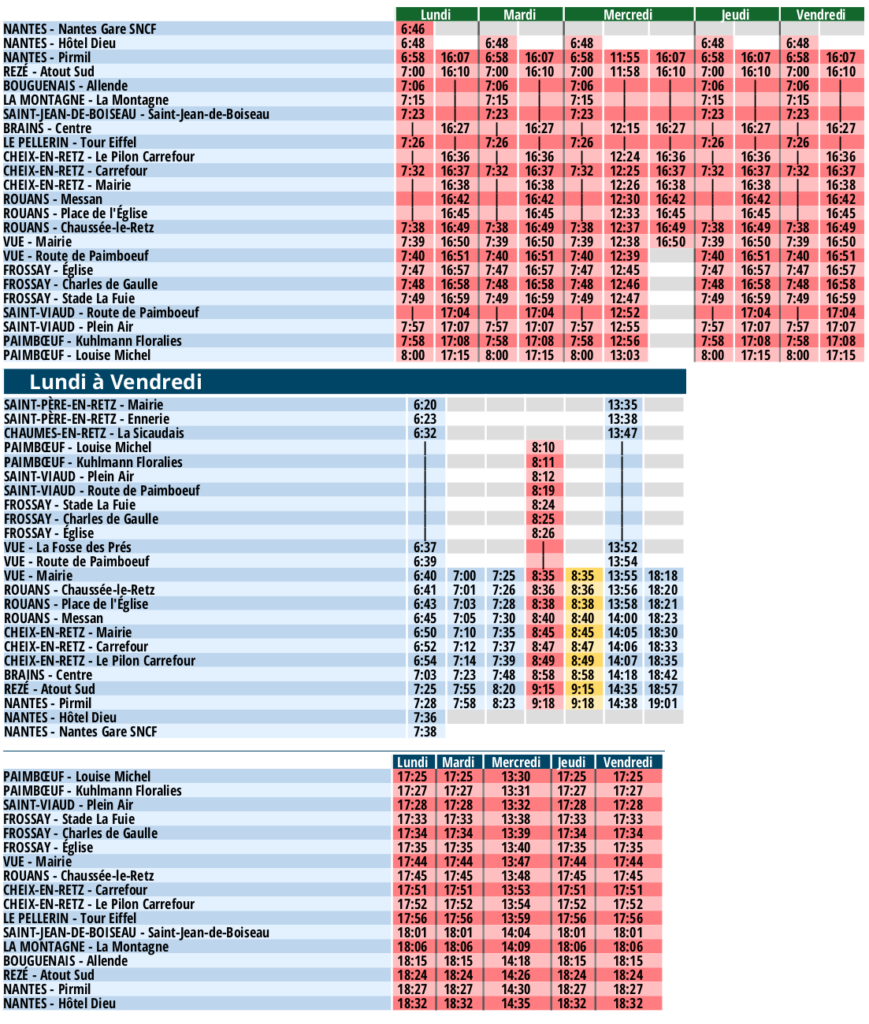 Take the car from Pirmil stop (tram lines 2 and 3) heading to Paimboeuf then you have two options :
Get off at the PAIMBOEUF – Kuhlmann Floralies stop and plan for a 45 minutes walk to the Zad following the Loire à Vélo heading to Frossay.
Get off at the Plein Air stop at Saint-Viaud then plan for a 45 minutes walk to the ZAD : go back then take the "route de l'aviation" then follow the Loire à Vélo.
Bus 316 Frossay Paimboeuf Saint-Nazaire which is more frequent from monday to saturday ! You can take it at the Saint-Nazaire SNCF trainstation.
Take the bus at the Gare SNCF – Saint Nazaire stop heading to Frossay and get off at the Paimboeuf – Kuhlmann Floralies stop. Then plan for a 45 minutes walk to the Zad following the Loire à Vélo heading to Frossay.
| Départ Saint-Nazaire | Arrivée Paimboeuf |
| --- | --- |
| 7h10 | 7h52 |
| 8h52 | 9h34 |
| 10h00 | 10h42 |
| 12h00 | 12h42 |
| 16h00 | 16h42 |
| 17h10 | 17h52 |
| 17h40 | 18h22 |
| 17h45 | 18h27 |
| 18h45 | 19h27 |
| Départ Paimboeuf | Arrivée Saint-Nazaire |
| --- | --- |
| 6h20 | 7h07 |
| 7h00 | 7h46 |
| 7h30 | 8h17 |
| 8h01 | 8h48 |
| 9h18 | 10h03 |
| 15h23 | 16h08 |
| 17h00 | 17h44 |
| 17h55 | 18h40 |
Come a few hours / for a day
Everyone is welcome everyday to discover the Carnet island, to walk, see the beauty of the places. Don't hesitate to talk with us, we are (also) here for that !
Some discovery strolls are planned every sunday. The meeting is at 12pm for a picnic then 2pm for the start of the stroll.
If you stay a few days or more
We advise you to take your identity card, a tent, a sleeping bag, warm clothes, a head lamp, etc. (If you don't have some items, don't worry, we'll find a way). The Zad is a place for struggle and not a place for partying et we prefer that you avoid bringing a lot of alcohol. If you wish to bring something to share, you can consult our list of needs. The zone is big, bring a bike if it is possible (we have some tools to repair bikes).
Your phone might be useful, as well as some external batteries. We don't have a place to recharge phones right now but you can do it in nearby places.
Before coming here, take time to read informations from the Legal team.
Arriving
We wrote a guide for newcomers which contains a lot of informations about how we live together in the Zad. This text is also displayed on the walls of the Vortex. Don't hesitate to tell that you just arrives, someone will introduce you to the zone.
If you take photos or videos, please ask for the consent of anyone appearing on the photo (even if only the back). You can send us texts, photos and videos by mail so that we can reuse it : zadducarnet[at]riseup.net.